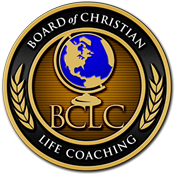 The ongoing mission of the BCLC is to serve Christian crisis responders throughout the world in taking positive and tangible steps to further develop the emerging profession and maintain a viable and comprehensive Christian Care Connect  as a resource for those who are hurting.Under the International Board of Christian Care (IBCC), the BCLC continues to offer its members and the Christian Life Coaching community the following benefits:
1. National Credentials – We deliver a clinically-rigorous, biblically-based, and voluntary national credential in Christian crisis response that utilizes a systematic and thorough evaluation process.
2. Ethics – We continue to advance the AACC Christian Crisis Response Code of Ethics while promoting Christian crisis response in a manner that not only maintains a high ethical standard of care, but also honors the sacred trust that God has given to each of us.
3. Advocacy – We advocate both the profession and ministry of Christian life coaching to the Body of Christ and our sister professions at the state and national levels, as well as in the communities where we live and work.
Please review the Renewal Application, Attestation and Agreement carefully, as well as the specific requirements for your particular credential. You may want to make a photocopy of all completed forms to keep for your records. The biennial (two year) renewal fee for all credentials is $149.00. Checks should be made payable to IBCC.
On behalf of the entire IBCC team, thank you for being part of the IBCC and may God bless you in all your counseling work and related ministry.
Please send your completed application, renewal fee, and all required supporting documentation to:
BCLC
c/o Administrative Coordinator
P.O. Box 739
Forest, Virginia 24551